Trademarks
---
---
Style Guideline
Every Pirate has a set style and ECU has an entire guide to assist in the representation of the East Carolina Pirates. The elements of the visual identity outlined in the following pages define a unified consistent brand for the athletics program. The branding framework for ECU Athletics creates limits on design options. Disciplined simplicity and consistency is imperative for high-level branding.
East Carolina University Athletics Style Guideline 2023 (PDF)
---
Art Sheet
A collection of ECU's most recent athletic and institutional marks. The marks of ECU are controlled under a licensing program administered by Collegiate Licensing Company. Any use of these marks will require written approval from the ECU licensing office/CLC.
East Carolina University Art Sheet 2023 (PDF)
---
Pirate Colors
The official school colors for ECU – purple and gold – date back to 1909 and were selected by a committee of students. Below is a list of color selections for ECU trademarks by acceptable color model.
Pantone: PMS 268
Hexadecimal: 592A8A
CMYK: 86-100-0-12
RGB: 89-42-138
Madeira: 1122
Pantone: PMS 109U
Hexadecimal: FFC702
CMYK: 0-14-96-0
RGB: 255-199-2
Madeira: 1024
*On coated paper, Gold preferences are PMS 123, Hex #FDC82F, CMYK 0-21-88-0, and RGB 253-200-47.
Accent Colors
NOTE: At times, an expanded color palette or colors outside of the core palette is necessary. Examples would be the occasional use of a unique uniform, like those that support special initiatives such as breast cancer or honoring U.S. military service members. Although acceptable for special situations, utilizing colors outside of the primary color palette is not intended for long-term use. Retail branding has seasonal palette flexibility and when used correctly, will complement the primary color palette utilized by ECU Athletics.
Trademarks of ECU may appear as shown throughout the licensing site. They should appear only as shown or otherwise permitted by the trademark licensing office. One color marks may appear in purple, gold, black, or white, allowing for a variety of background color options.
---
ECU Icons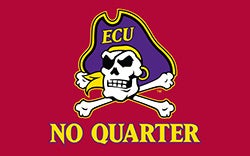 Pirates at sea would raise their "No Quarter" flag to identify to the enemy that Pirates never surrender, never retreat, and take no prisoners. Used when entering the fourth quarter of games, East Carolina University students throw up their arms in a cross and cheer ECU teams onward to victory!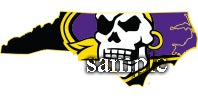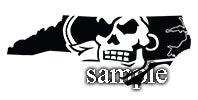 Introduced in 2009, the ECU Pirate State of Mind icon represents the pride and presence of East Carolina University across the state of North Carolina. The two main locations of this icon are on the basketball center court in Williams Arena at Minges Coliseum and the middle of Bagwell Field inside Dowdy-Ficklen Stadium. The icon is used as a secondary mark in other locations.


A Pirate Head graphic has traditionally represented East Carolina University Athletics. This Pirate Head was adopted into Athletics as the main identifier in 1998. It is a traditional icon to honor ECU's history. This icon will be used for Hall of Fame, letter winners, and other traditional events.
---
Word Marks
Primary Word
ECU has over 20 word marks. While it can be written in many formats, fonts and styles, the official font of the East Carolina Pirates is Matrix Extra Bold. Examples of our Primary Word Identifiers are show below. A full list of Identifiers can be found in our Style Guidelines.
East Carolina University®
East Carolina University Pirates™
East Carolina Pirates™
East Carolina®
ECU®
ECU Pirates™
Pirates™
EC™
Purple and Gold™
PeeDee The Pirate™
Arrrgh™
First Down…Pirates™
Where it is a First Down…Pirates™
Paint It Purple™
Murphy Center™
Williams Arena at Minges Coliseum™
Dowdy-Ficklen Stadium™
Clark-LeClair Stadium™
Wright Circle™
Pirate Nation™
We are the Pirates of ECU™
Font Types

Shown below are the two different font types used in ECU Athletics. The Primary Word art is Matrix Extra Bold.

The Gotham font will be used in support of the Matrix Extra bold in graphic representations and for departmental uses such as the type style used for correspondence.
---
Institutional Marks
The East Carolina University institutional marks are very specific and should be used properly.
If interested in the institutional marks, please go to University Communications.